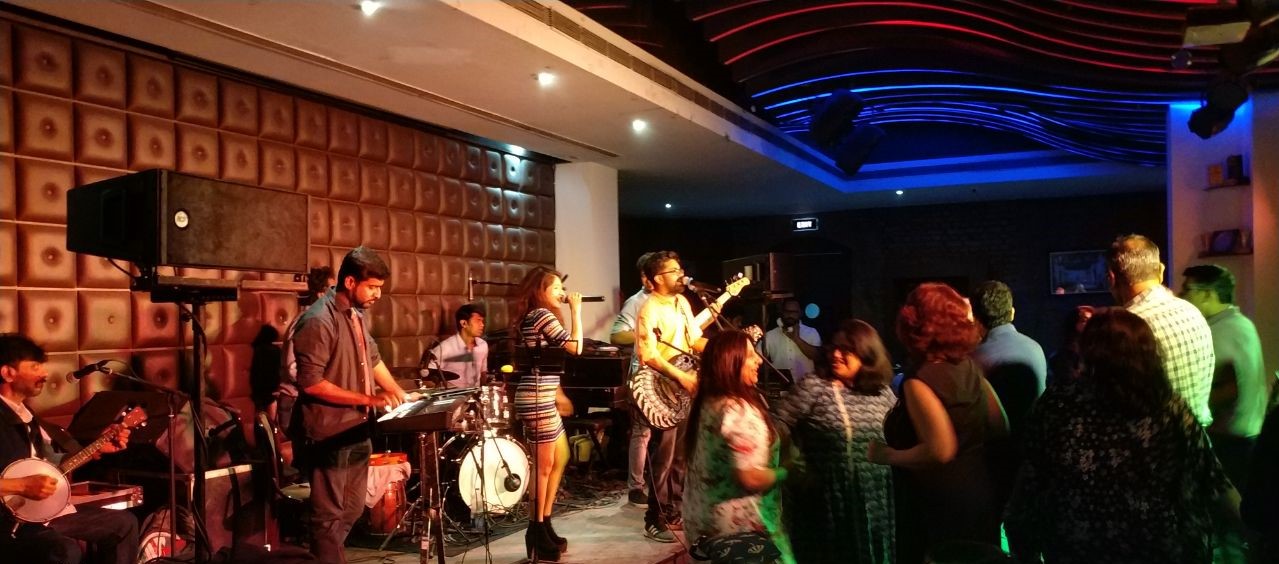 The Dalhousie Institute is known for its penchant for music and sports as a means of relaxing, other than the socializing that usually happens at all clubs. The DI is (perhaps) the only club in Kolkata that offers live music three times a week, week after week. In addition, there are the special dos that take place once a year. Here, in a nutshell, is what happens:
Club Night: The very first to hit the musically-minded historically were the Club Nights. Every Friday, live bands and their enthusiasts zero in on the main bar to partake in melodious moments in which English music from all ages for all ages (above 18) reverberates. Established bands and the up-and-coming ones take turns, along with theme-based DJs, to entertain members and their guests. And as the entertainment picks up with the progress of the evening, the dance floor is jammed with jivers loosening their joints!
Bollywood Night: If Fridays are fab, can Saturdays sit slack? Hindi and sometimes Bengali music takes over with singers who render hits that have been popular through time. Performing solo or with their musicians, songs from Bollywood and Tollywood set the tune for the evenings. Nostalgic and nascent numbers beckon: Aja nach le! And do the members and their guests respond! With requests and sing-alongs, these nights turn out be quite joyous and well-spent.
Monday Members' Night: A unique concept introduced by DI from February 6 this year, for we believe that if music be the food of barrier-breaking, then open up! At first members of 12, then 14, and now 17 other city clubs have been welcomed to attend, hear, eat, quench and dance to the tunes of popular live performers singing evergreen numbers. From everyone's darling Usha Uthup to Wagah Road, the Bombay Gramophone Company, Euphony and Nigel & Khaled, there is a melodious mix – Sufi and fusion included! Several "other" members have already made DI their regular rendezvous point on Mondays!
Special Events: In addition to the weeklies are the "yearlies", or the once-a-year occasions that hold a special place in the DI calendar. Coinciding with the seasons, they range from the annual picnic, where fun and games and food and frolic gel well, to the Candlelight, sit-down dinner for members only, where speeches and awards build an appetite for the sumptuous multi-course dinner that follows. In between are events like the Goan Carnival, May Queen Ball, the Poila Baisakh and Bijoya Sammelani festivities and, of course, packed Easter and Christmas programmes. Needless to say members and their dependents enjoy the preparations as much as they do the participation.